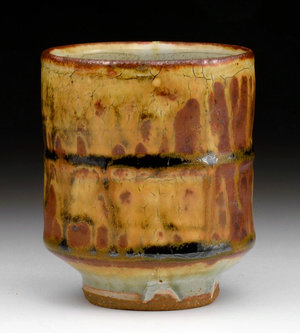 Yunomi
Rick Hintze represents the qualities of functional ceramic that I absolutely adore. He combines the best traits of tradition, with the push for exploration in his work.
His influence from the Japanese masters is evident both in the form and glazing of his work. There is an amount of careful variation cutting through the standardization, the tradition of which can be related back hundreds of years to the first followers of the wabi-sabi, the movement of aesthetes that pushed for an acceptance, and appreciation for the imperfection and transience of existence. Hintze has found a way to let this imperfection and variation into his work in different, almost opposite ways in his different styles. On one side we have the explosion of ash and iron and slip. The slip cracks and crawls across the surface in a hundred different directions, and is accented by a soft undulation in the clay.
Here and There
Servoss' work hits close to home in a different way. The sprawling cornfields, lonely farm-houses, and towering trees dredge up memories of my beginning years in the Illinois countryside. In the middle of nowhere by all approximations, the only thing different about my memories and these scenes are the notable lack of hills. His paintings remind me of the tremendous beauty and mystery that can be found in the most innocuous of locations. Despite the unnerving qualities found in the work, on a whole I find them to be strangely comforting.
Looking at the two technically, I find many similarities in the handling of Allan's colored pencil to Rick's glazing techniques. There is so much hidden detail in the subtly shifting colors. The individual strokes and flicks of his mark making, just as with the cracking glaze, pull together into a cohesive surface. No clearer is this seen than in the bark and branches of Allan's trees. Small splits of wood mirror the ceramic surface to an uncanny level.
Digging into these comparisons further I keep finding little pieces of each artist's work connecting with each other. Little things, the right tone of blue-green glaze hitting the hue of the grass in Allan's nocturn. The ash on porcelain pooling into a glassy ocean ice, not unlike Allan's "World's Edge." The iron line-work on one of Hintze's vessels meeting the horizon line of a corn field. Having walked through the show dozens of times now I can only describe it as magical.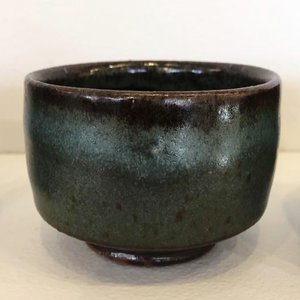 Teacup

Along the Northern Edge