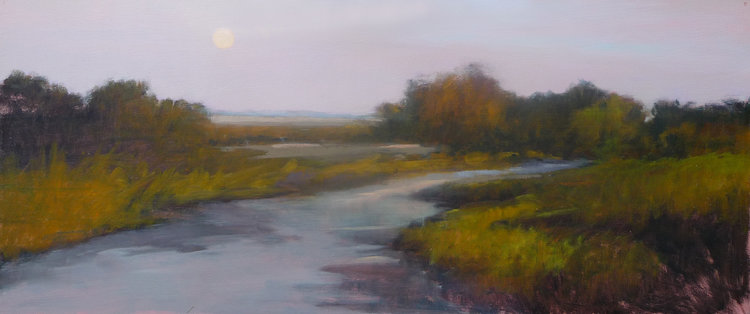 Artist Interviews: Diane Washa & Alex Mandli
While putting the finishing touches on their shows, we took a moment and asked Diane Washa and Alex Mandli to reflect on their work. As they were taking part in a joint effort, we thought it would be interesting to ask the two of them the same five questions, even though they were working in drastically different media.
Q1: Why did you decide to work in your chosen media?
Diane: "I was drawn to oil painting while studying art at Milton College. My classmates and I periodically took road trips to the Chicago Art Institute where I was drawn to the color palette, brush strokes, composition and expressiveness of French Impressionist painters."
Alex: "As a child, I would spend time playing in open fields near my home, and I was fascinated by the way mud could be sticky, slimy, and plastic. After a few days of sunshine, the marks my bike tires and shoes made were hard enough to pick up. When I was ten years old, I made my first piece of pottery. As a student, I was always drawn to art class and the hands-on approach to the subject because it was so rewarding. After college, I exhibited drawings and paintings, but I always intended to have a studio to work with clay. In 1978, I built a studio and salt kiln with the intention of spending the rest of my life playing in the dirt.
I've always made things with my hands; I am a "Maker". Most of the people in my family had jobs making things with their hands and I continue that family tradition. I spend my time creating things that didn't exist before I made them. The creative process is what gives me joy and satisfaction."
Q2: How has your work changed over time?
Diane: "I believe it was Renoir who said after painting for over fifty years he was still learning how to paint. I have only been painting for eleven years so I have a long way to go to master this art form. I am not exactly sure how my work has changed over time but I hope my audience sees that my technical style is becoming more refined and sophisticated. The aspects I'm focusing on currently include using different types of brush strokes, creating a richer, more sophisticated color palette, more skillfully addressing 'edges' and working bigger.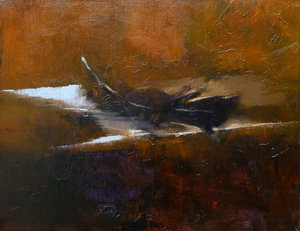 Diane Washa - Feather Study 2016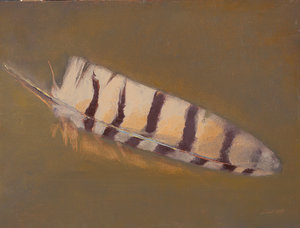 Diane Washa - Feather Study 2008
I'm also getting better at envisioning what I want the end product to look like and figuring out how to make that happen. And that's best achieved by painting the same composition multiple times on different canvases instead of simply applying more paint to the same canvas."
Grapevine Series Lidded Jar - Alex Mandli
Alex: "Since I began working in clay, my goal has been to make beautiful vessel forms and adorn those forms with surface decoration. Many times that decoration follows a theme or series. I have always taken a playful approach to my work which has led to change in the work I do.
To see how my work has changed over time, visit the early samples section of my site.
Q3: What's the most indispensable item in your studio?
Diane: "Viva toweling to remove paint from my canvases, hands, clothing, brushes, etc :-)
'Listening' to what my paintings are telling me to do next. Which means … I get a new perspective by turning my back to my canvas, walking away from it, turning around to see what I've done, and with a fresh set of eyes determine what I need to do next."
Alex: "My kilns are the most indispensable item in my studio; in fact, I have one in my studio and four at an off-site location."
Q4: Is there an artist who has strongly influenced your work?
Diane: "Limiting it to one artist is impossible … I'm inspired by so many artists past and present"
French impressionists – Monet, Renoir, Pissarro , Van Gogh, Cezanne, Degas
American impressionists – Edgar Payne, John Singer Sargent, John Frost, John Henry Twachtman, Percy Gray, John Carlson, Guy Rose, Hanson Puthuff.
Other American artists – Remington, Russell, Rothko, O'Keeffe, Nicolas De Stael, John Wilde, Jon Wilde, Jan Norsetter, Richard Schmidt, Scott Christianson, Clyde Aspevig, Terrence Coffman, Claire Basler, etc
Alex: "For years I've studied and enjoyed the pots of many ancient cultures. I am influenced by the ceramic artisans who are anonymous except for a finger print of the creator somewhere in the finished surface."
Q5: Can you tell us something noteworthy about your current work?
Diane: "My current work represents a culmination of over tens years of studying and painting Wisconsin's watersheds nestled between the southern unit of Kettle Morraine over to the backwaters of the Mississippi River near the Trempeauleau Wildlife Refuge. I'm still having a blast capturing the beauty and uniqueness of Wisconsin's landscapes in every season of the year including our frigid winters.
With the installation of Earth and Water at the Artisan Gallery, my sights now are set on creating a new body of work incorporating the technical goals I described above.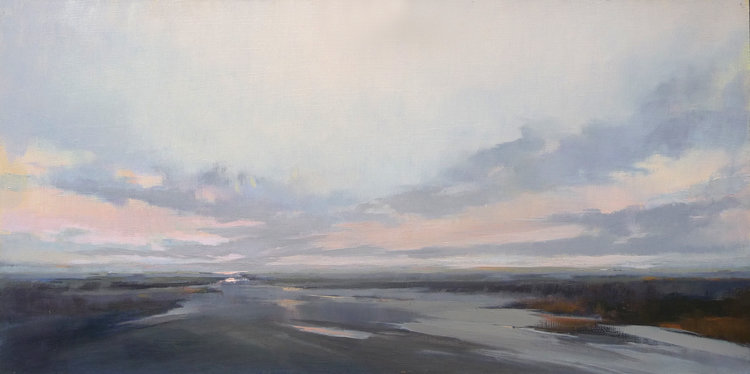 Diane Washa
Horicon Marsh - Study
Alex: "My current work seeks to perfect the very essence of making ceramics by focusing on just clay, water, and fire. The saggar firing process relies on the skill and experience I have developed over forty years to create an environment of combustible materials that will use the fire as a painter uses a brush. Unlike raku or glazing, the coloring of a saggar-fired pot occurs from the moment the kiln is lit until the pot has completely cooled.

To accentuate this unique coloring, I use a vocabulary of forms built with a foundation from the traditions of ancient ceramics cultures and then honed with my intuitive understanding of form.
I believe that saggar firing approaches the very heart of ceramics as a medium—the fusion of clay, water, and fire. By eliminating everything that is not these three components, my work unites surface and form.
What surprises most people is that there is no glaze on my work."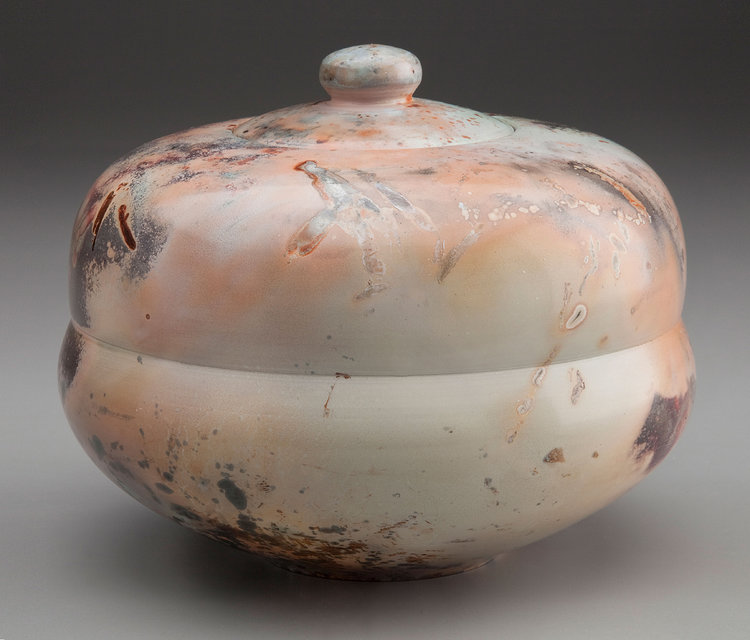 Alex Mandli - Lidded Vessel
Alex and Diane's show will be up through the end of the year, and the pairing is stunning in person. Directions to the gallery can be found here.