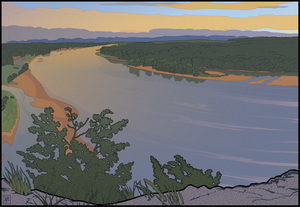 Up River from Ferry Bluff
digital print - 32 x 41
View fullsize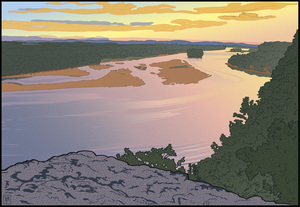 Down River from Ferry Bluff
digital print - 32 x 41
Our current group exhibition Contemporary Printmaking shows the vastness of techniques found within the media of fine art printmaking. The show represents many traditions within the media of printmaking: etching, serigraphy, lithography and woodcut. Printmaking is a media steeped in tradition; however this exhibit shows how these traditions can be utilized to create works relevant to our modern aesthetic.
View fullsize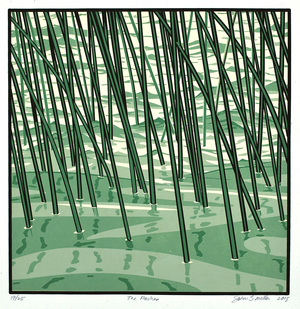 The Rushes
screen print on paper - 19.5 x 19
I am particularly excited about the work of John S. Miller who is showing with us for the first time. In his diptych "Down River from Ferry Bluff" and "Up River from Ferry Bluff" he is working with the most contemporary of printmaking techniques, digital printmaking. These prints incorporate image making reminiscent of more traditional print medias, the line quality of woodcut, the crisp flatness of screen printing, and the color gradation achieved from a blend roll or split fountain, but with the great advantage of tying all these styles together into one image. His use of bold line work together subtle patterns and bright color shifts is seemly simple, but it takes a keen eye to distill such a dramatic landscape down to its essential elements in such a sophisticated manner. All of these elements converge to create a stunning set of prints that capture the Wisconsin landscape. I have hiked the path leading to Ferry Bluff and can attest to Miller's ability to capture the feeling of standing high above the Wisconsin River looking out on that dramatic vista.
View fullsize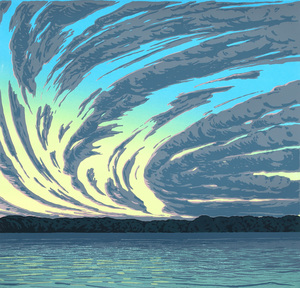 Walking the Dog
screen print on paper - 29 x 29
Miller has created a vernacular within his work which transcends media. His screen prints, digital work, and paintings all share an affinity which is uniquely his. Too often digital printmaking is underestimated because of its commercial applications, but it seems to be the role of printmaking to adopt the most current technologies and elevate them into the realm of fine art. At one time screen printing and lithography were considered new media and were lambasted in the art world for their commercial application. Over time these methods have developed a tradition of their own and have been accepted as part of the canon of printmaking. Miller's work is a true example of how digital media is creating a tradition in and of itself.
- Ann Orlowski
Assistant Art Director