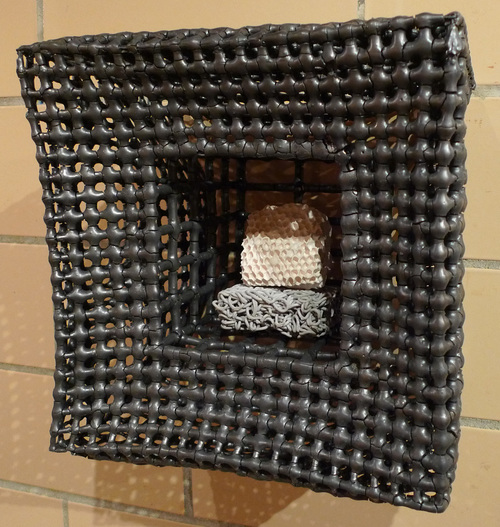 Here at the artisan we've been looking for ways to broaden the scope of dialogue surrounding the wide variety of work that finds its way through our doors. To that end we're launching a new Staff Picks column where each of us will take some time to write about something interesting we've found in the new line-up of shows. My name is Aedric Donovan, I'm a gallery associate studying ceramics, so it seemed only fitting that I talk about Delores Fortuna's new experimental ceramics show. We believe that art is its most productive when it works to generate conversation, and we'd like to encourage you to comment with your own reflections regarding this, or any body of work here at the gallery. As always, thank you for your support, and we look forward to sharing our thoughts.
---
Delores Fortuna's newest body of work, exhibited in our show, "A Non-traditional Approach to Clay," centers on the exploration of material.
I am personally drawn to Delores' work for her ability to elevate simple forms with the inclusion of interesting material experiments. In her incorporation of wire, bentonite, wasp nest, q-tips, and tool dip we find new relationships with the clay. Through these new relationships our understanding of the media can grow.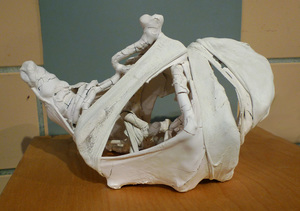 The personal favorites of mine are her teapot forms and in particular their construction. She began by filling out the armature with wire coated in layers of porcelain casting slip. The build-up over time formed tubular structures that were then broken into bone like segments, curled into a rib-cage. These tendrils gave the teapot structure and support, while rendering it incapable of holding liquid, arguably the task one normally comes to a teapot for.
The plaster skin of the pot was then drawn across the skeleton, drawing relations to the membrane of their maker, and that of the thrown pot. This re-contextualization of the vessel wall, while equally defined, is much more fragile than, and not nearly as impermeable as a thrown wall.
Teapots have always served as allegory for their makers, and perhaps this vessel serves to remind us of our own external fragility, but simultaneously to reinforce our appreciation for the spirit that holds us up, and serves to give us form.
---
Check out Delores' artist page here, and if you find yourself in scenic Paoli, Wisconsin you should stop in for a chat. I'm the funny lookin fella with the glasses.
Directions to the gallery can be found here.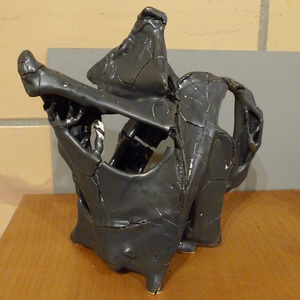 6 Likes
Share